Mountain hut Rudi Hütte
Fritz Rudi Egarter
Sesto / SextenThree Peaks Dolomites - Alta Pusteria, South Tyrol
Telephone: (+39) 04747100...(+39) 0474710063 / (+39) 0474710436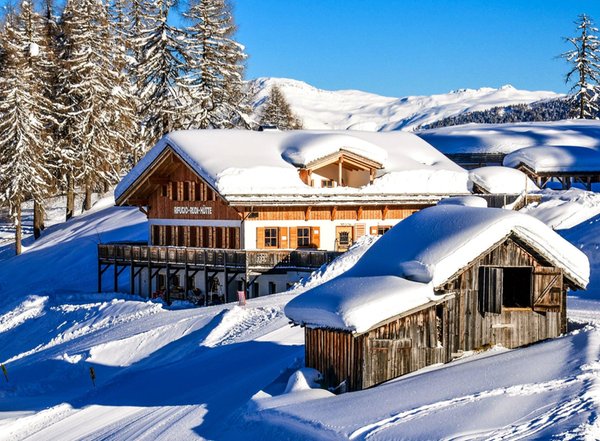 Visit the mountain restaurant Rifugio Rudi and enjoy the stunning view as well as the great food. Tyrolean specialties are served, dishes of wild meat and of mushrooms and - not to be forgotten - home-made cakes. Right next to the Rifugio Rudi there is a large children's playground and in winter there is the starting point for the 5-km-long tobbogan run. In summer it is the starting point for many hikes, in winter the meeting point for many skiers with good mood for having fun.
In summer you reach the Rifugio Rudi via the following hiking trails:
Moso/Moos: N. 15/17 – approx. 2 hours Val Fiscalina/Fischleintal: N. 153 or 124 – approx. 2 hours
Passo Monte Croce/Kreuzbergpass: N. 15°, 15b or 18 – 2-3 hours
In winter as well as in summer the cable car takes you up in about 10 minutes.
Opening: from June to beginning of October and from Christmas to April
Map
Mountain hut Rudi Hütte
Sesto / Sexten
Three Peaks Dolomites - Alta Pusteria, South Tyrol
GPS coordinates
lat: 46.671269° N
lon: 12.391806° E
lat: 46° 40' 16.6'' N
lon: 12° 23' 30.5'' E