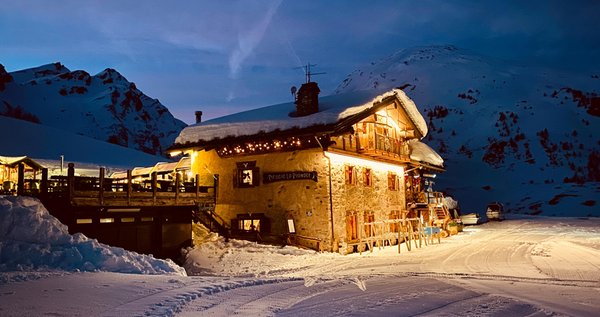 Mountain lodge of the Udali/Collomb family for 45 years and 3 generations.
Located in summer on the road of Colle Piccolo San Bernardo n.4, 5 km from the border with France, pond with fish, ducks, garden with horses, large dehors and deck chairs for relaxation.
In winter located on the track n.7 of the La Thule/La Rosiere ski area. Dinners at high altitude with fixed menu and fixed prices transported by the snowcat. Possibility to go down on foot or on skis in a torchlight procession.
Typical traditional, rustic and home cooking.
Wine list provided, champagne and renowned labels.
A unique experience surrounded by nature, surrounded by the Mont Blanc valleys.
Reviews
This business activity has no reviews yet.
Write the first positive review, share your experience!

Write your review
Map
Mountain hut Lo Riondet
Loc. Riondet, 4
La Thuile (Monte Bianco)
Aosta Valley
GPS coordinates
lat: 45.709480° N
lon: 6.913789° E
lat: 45° 42' 34.1'' N
lon: 6° 54' 49.6'' E