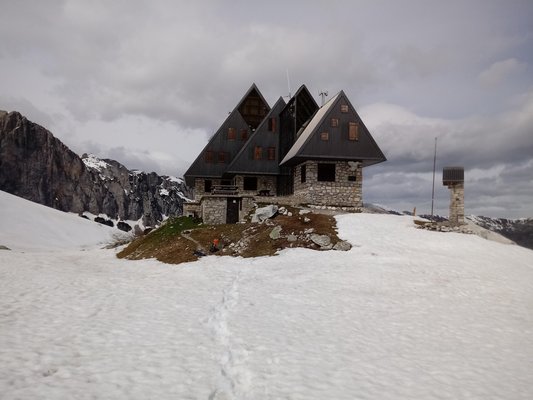 The Garelli hut is a typical alpine mountain hut located in the middle of the Marguareis Park and at the foot of the homonymous massif.
Located on a lovely plateau, it offers a spectacular 360-degree view of the mountains above and the Alps with a view of the Matterhorn.
The mountain hut is a good starting point for the ascent to the Marguareis and in spring for the ski slopes and the gullies of Genovesi and Torinesi, not to mention the spectacular mixed ascent of the Pancioni with the Guglietta variant.
The hut is an intermediate station for the Gta, the Via Alpina, the Via Italia and the Giro del Marguareis.
Reviews
This business activity has no reviews yet.
Write the first positive review, share your experience!

Write your review
Map
Mountain hut with rooms Garelli
Loc. Pian del Lupo
Chiusa di Pesio (Cuneo Alps)
Cuneo Alps, Piedmont
GPS coordinates
lat: 44.188745° N
lon: 7.687589° E
lat: 44° 11' 19.5'' N
lon: 7° 41' 15.3'' E