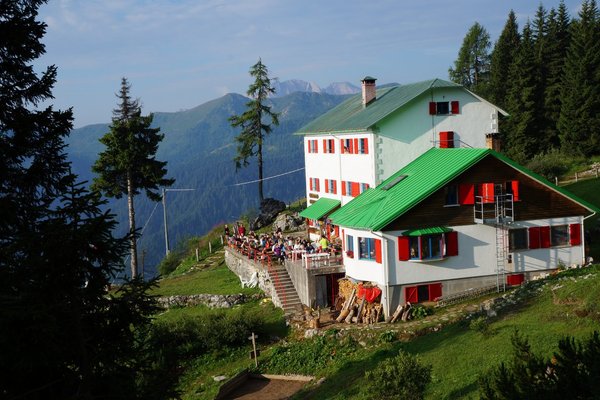 Welcome to the Fratelli De Gasperi Lodge, where our staff is happy to welcome you from June to September!
Hidden in the heart of Carnia, tucked into the Pesarine Dolomites, the lodge dominates the valley on the sunny balcony of the Clap Grande Mountain at 1767m of altitude.
It is an ideal setting for pleasant hikes, high altitude climbing and equipped trails.
The lodge offers abundant leisure and recreational activities, such as CAI rock and yoga courses, soccer and bowls games and slackline balance exercises just to name a few...
This new season will also inaugurate our "Mountain Remote Work ", an incredible initiative that will re-balance your work experience with the aspects of life that really matter: health, nature, sport and relaxation.
Our Lodge offers the genuine pleasures of an authentic Friulian cuisine and state of the art amenities. Our facility is equipped with 64 comfortable mountain rustic rooms, accommodating 2 to 6 people. If still in doubt, the area is also endowed with some of the most well known trails in Northern Italy and the Alpe Adria Region. In the lodge's hinterland: the Alta Via nr. 6 or Alta Via dei Silenzi trail, with the de Gasperi conveniently placed on the path as the second stop; the Ferrata dei 50; the Corbellini path; the Passo Elbel track; the equipped route of Creton di Culzei; to the Big Clap path; the Torre Sappada track. In addition, the CAI 201 path to reach the lodge will be a real experience for kids.
Reviews
This business activity has no reviews yet.
Write the first positive review, share your experience!

Write your review
Map
Mountain hut with rooms Fratelli De Gasperi
Prato Carnico (Carnia)
Friuli Venezia Giulia Alps
GPS coordinates
lat: 46.520127° N
lon: 12.675974° E
lat: 46° 31' 12.5'' N
lon: 12° 40' 33.5'' E