Rifugio con camere Al Sasso Nero / Schwarzensteinhütte
Margit Ainhauser
San Giovanni / St. Johann (Valle Aurina / Ahrntal)Tauferer Ahrntal, South Tyrol
Telephone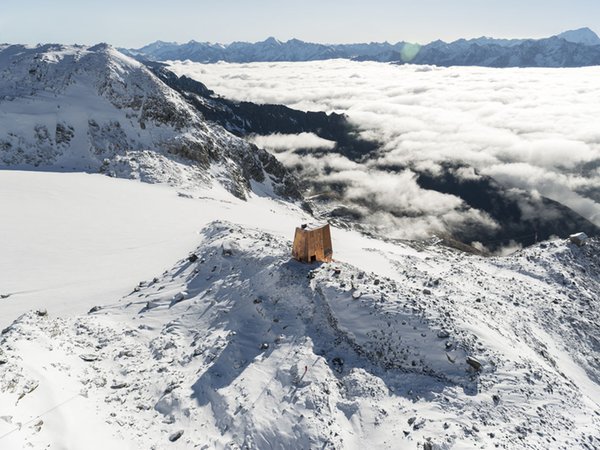 The Schwarzenstein hut has the extraordinary shape of a peak, the layout builds an irregular hexagon. Starting from the ground floor its shape becomes smaller from below and from above.
The new Schwarzensteinhütte was build in 2017 and gives space for 50 people divided in 10 rooms.
The "Stube" (dining room) which is the widest part of the building, is equipped with a large window wall where there is an amazing view to enjoy on the 'Hohe Tauern National Park', the 'Ries-Aurina Nature Park' and the Dolomites.
The hut got edged with a copper sheet on the outside which with the passing by turns darker in its color and so it matches perfectly the rough landscape. The static structure of the basement is built with reinforced concrete while the upper floors are built with timber construction. The interior design is built nearly completely with spruce wood, which gives the hut a nice and comfortable atmosphere.
The meltwater of the glacier is getting filtered in a processing plant so that it can be used as drinking water.
Due to no possibility of power supply and sewage disposal from the valley a 90m² photovoltaic system with battery storage got installed in the basement of the hut. In case the power supply is still unsatisfactory, the photovoltaic system is fitted with a cogeneration plant which also produces warm water. The sewage runs into 3 different tanks, which are getting emptied in autumn in a dry bed and in a seepage shaft. The material that remains in the dry bed gets flown out by the helicopter to the valley and there it gets disposed.
Also the entire food supply, fuel and gas which is used for cooking gets flown up by the helicopter.
The Schwarzenstein hut offers protection to mountaineers and an unforgettable experience in the mountains surrounded by its glaciers.