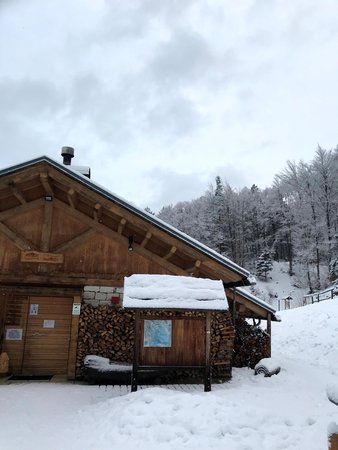 The mountain hut Maranza is located few kilometers from Trento, at 1075 meters, and is the ideal starting point for your excursions.
Here comfort and tradition meet, tasty dishes contain the most authentic traditional Tyrolean cuisine, and you will also find respect for raw materials and innovation.
The mountain hut is immersed in nature and gives you the opportunity to enjoy an excellent cuisine, a breathtaking view on the Dolomites, which turn red when the sun goes down and have a close-up experience with the animal of the farm of the hut!
This is a quiet place, that gives you the opportunity to escape for a while from the city life and to live a sensory experience that satisfy not only your palate.
Reviews
This business activity has no reviews yet.
Write the first positive review, share your experience!

Write your review
Map
Mountain hut Maranza
Loc. Cimirlo - Str. per Maranza, 23
Trento
Trento, Rovereto and Val di Cembra, Trentino
GPS coordinates
lat: 46.027681° N
lon: 11.165693° E
lat: 46° 1' 39.7'' N
lon: 11° 9' 56.5'' E