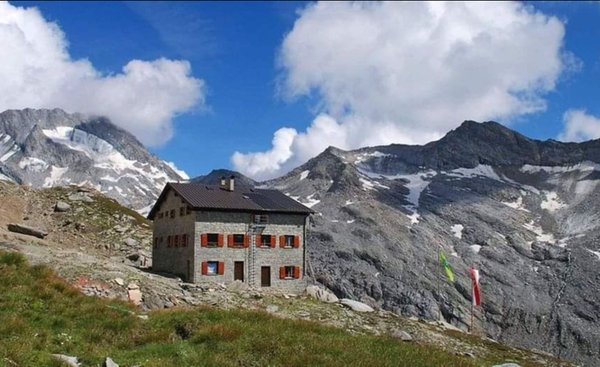 The mountain hut Hochfeilerhütte is at 2715m above sea level, below the Hochfeiler peak in the middle of the Zillertal Alps. You can enjoy a wonderful view of the surrounding mountains and glaciers.
In 1982 the Alpine Club of South Tyrol began to make the plan for the hut. Two years later it was built and on 14th September 1986 it was inaugurated.
Starting point Pfitschtal
How to get there: Drive on the motorway A22 and take the exit to Sterzing. Then follow the road to Pfitschtal for about 25 km.
Parking space: at the 3rd turn of the Pfitscher-Joch mountain road.
The hiking trail is about 6.5 km long and takes about 3 hours.
At first the path leads through woodland up to the tree line. There you can enjoy the view of beautiful landscapes. From a height of about 2000m there is an easy and pleasant path through a magnificent green Alpine scenery. There you can meet some sheep or marmots! Towards the end of the trail you have to cross a gravel path which finally leads you to the hut.
Reviews
This business activity has no reviews yet.
Write the first positive review, share your experience!

Write your review
Map
Mountain hut Hochfeilerhütte
Val di Vizze / Pfitschtal (Vipiteno / Sterzing and surroundings)
Valle Isarco / Eisacktal, Alto Adige
GPS coordinates
lat: 46.962639° N
lon: 11.708530° E
lat: 46° 57' 45.5'' N
lon: 11° 42' 30.7'' E