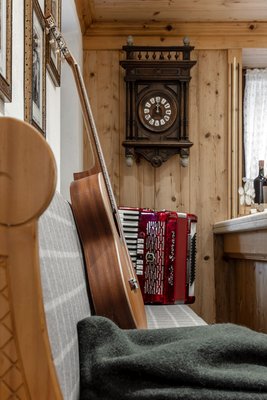 homemade - regional - with Aqua Bad Cortina
Thank you good Lord, thank you Mother Earth
for all that you give us!

The culinary uniqueness of Aqua Bad Cortina is, that all homemade drinks and dishes, are enhanced by our mineral water and so take on a very particular connotation. Each taste, each sip, becomes a little "Source of Strength", a small experience that vibrates in tune with the source.

The "Gosté"
The healthy breakfast of strength at Aqua Bad Cortina.

The "Bun pró" The "buon appetito" (have a nice meal) at dinner time
Like at home, at Aqua Bad Cortina also, everyone gathers at the table when the pasta is boiled to be 'al dente' at the latest, every day on time, at 19.19 (07.19 pm) sharp. Our choice of cuisine, adopted with passion and dedication by our chef Christian Rindler and all our staff, has simple but bearing columns:
- Homemade, à la minute... always and anyhow;
- Quality products, fresh, genuine, seasonal;
- Simple dishes... however: simply good;
- Valuing native products from our soil, cultivated by our farmers;
- Favouring organic and bio-dynamic grown products.

Taste our passion for genuine and healthy cooking. Let this vacation become a memorable experience for your palate!

The Alberti Mutschlechner family,
the kitchen staff and the service team

Our Choice – bio wines from South Tyrol
The organic and biodynamic wines

"The winemakers applying organic and biodynamic practices in the vineyard have the possibility to achieve a tangible sign of healthy land, plants, animals, in harmony with each other. A naturalness and vitality which inevitably flows into the grape and consequencely to the wine."

The wines certified as "organic" are produced from grapes and lands where plants were not treated with pesticides, herbicides and products which are not natural; also their subsequent winemaking excludes the use of GMOs as well as additives or adjuvants produced from GMOs. The production process of wines "biodynamic" also contains the idea that the vineyard and winery are part of a unique ecosystem which moves and grows in full agreement with the phases of astrological and lunar cycles: a biodynamic wine especially implies that the winemaker has not been using yeast and manipulation for adjusting the values ??of the natural product in terms of acidity and alcohol content.

Map
dal Bagn – BIOstaria
Str. Fanes, 40 - c/o Hotel Aqua Bad Cortina
San Vigilio / St. Vigil (San Vigilio di Marebbe / Sankt Vigil in Enneberg)
Plan de Corones / Kronplatz, Dolomites, South Tyrol
GPS coordinates
lat: 46.694897° N
lon: 11.931723° E
lat: 46° 41' 41.6'' N
lon: 11° 55' 54.2'' E