Shop Bottega dei Prodotti delle Dolomiti
HOME AND HOSPITALITY di Romanelli Giuseppe & C. S.A.S
Selva di Cadore - Via IV novembre, 31bMonte Civetta - Zoldo valley, Val Fiorentina, Agordino
Telephone: (+39) 35188987...(+39) 3518898718 / (+39) 3270728094
Online Store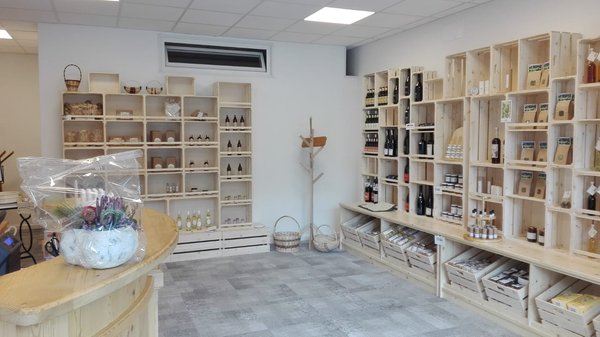 The shop of typical products of the Dolomites: from the art of wood and painting, to local culture, from the sparkling or slightly sparkling water of the Pelmo, to the original agricultural products of the Belluno area, flours, fettuccine, spelled, barley, Dolomiti beer, cookies, syrups, jams, lavender oils, pine pillows and lavender flowers, Amaro del Cadore, cumin grappa, herbal teas, elderberry syrup, pumpkin seeds, toothpastes and creams, fruit juices, etc. and even wool products and fabrics from Alpago.
Next to the shop: Service Bloomest Self Laundry: you will find 2 XL dryers, 2 L washing machines, 2 S washing machines and more; Coworking Office with 4 workstations on the desk, connected with printer and scanner, wifi connection of over 20 megabyte.
Reviews
This business activity has no reviews yet.
Write the first positive review, share your experience!

Write your review
Map
Shop Bottega dei Prodotti delle Dolomiti
Via IV novembre, 31b
Selva di Cadore
Monte Civetta - Zoldo valley, Val Fiorentina, Agordino
GPS coordinates
lat: 46.451209° N
lon: 12.037735° E
lat: 46° 27' 4.4'' N
lon: 12° 2' 15.8'' E