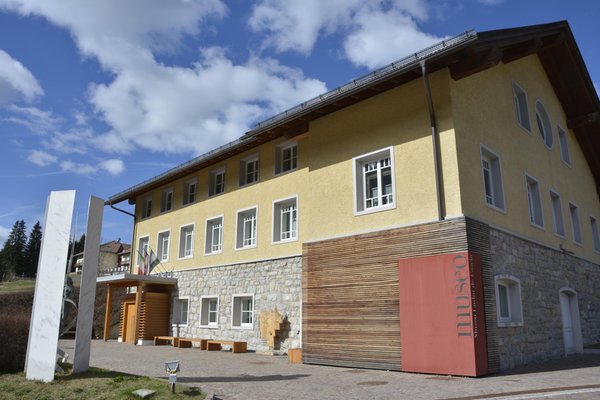 The Ladin Cultural Institute's ethnographic collections are kept inside the Ladin Museum in Fassa, which was inaugurated in 2001. They are the result of twenty years of research and are organized based on precise logical criteria and dedicated to the different aspects of the Ladin civilization.
Ladin Museum reflects the image of a living community that is aware of itself, characterized by its own language and by an unusual territory and history: the subject of the exhibition is, in fact, the process that led to the formation of a people, through evidence provided by the material and spiritual culture from its origins up to the present day.
One of the most significant aspects of the set-up is a system with 17 information points, managed by a computer network and equipped with an interactive touch-screen, spread along the entire museum itinerary: from here, visitors can access 74 short single-topic films concerning objects or aspects of the exhibition, with original sound and texts in several languages.
As well as the exhibition halls, the Museum also has a storage facility that can be visited, a Multimedia Room for educational activities, a bookshop and a museum shop with high-quality objects and gadgets.
The museum does not end with its Headquarters, but it also extends to the Territorial Museum with its "Local Branches" that form a real ethnographic itinerary throughout the valley.
Reviews
This business activity has no reviews yet.
Write the first positive review, share your experience!

Write your review
Map
Museum Ladin de Fascia
Strada de Sèn Jan, 5
Pozza di Fassa
Val di Fassa / Fassatal, Dolomites, Trentino
GPS coordinates
lat: 46.423306° N
lon: 11.679798° E
lat: 46° 25' 23.9'' N
lon: 11° 40' 47.3'' E