Ski & adventure montain Watles
Touristik & Freizeit GmbH
Malles / Mals - PrämajurVal Venosta / Vinschgau, South Tyrol
Telephone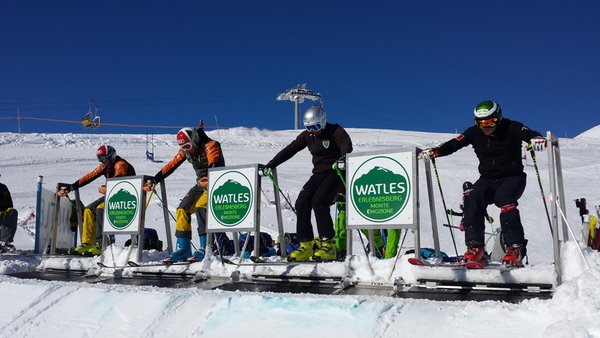 The Family-Friendly Ski Area of Watles in South Tyrol.
Sunny Ski Area for families, mountain enthusiasts and cross-country skiers.
Watles is a particularly popular ski area in the border triangle of Northwest Italy, a mere stone's throw from Switzerland and Austria, and is well-known for its many hours of sunshine. In fact, it is the sunniest area of the entire Ortler Ski Arena.
Extensive ski slopes and a stunning mountain panorama make the Watles an ideal ski area for the entire family, with over 18 km of ski slopes, suitable for beginners and families as well as experienced skiers.
Watles is also a great place for lovers of Nordic skiing. The Nordic Ski Center of Slingia is a meeting point for national and international cross country ski athletes. International competitions take place at the 15 km circuit at Slingia. The Watles area also offers a wide range of excellent trails and challenging tracks for ski mountaineers and snowshoe hikers. Numerous trails lead up to the highest mountains and their peaks.
Reviews
This business activity has no reviews yet.
Write the first positive review, share your experience!

Write your review