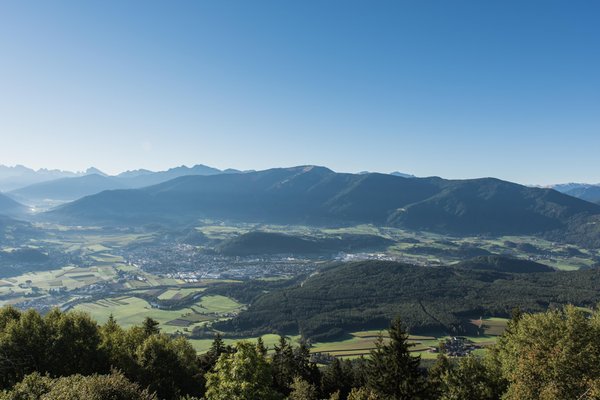 The little town of Bruneck is located at the point where the Pustertal Valley opens out into a wide basin. To the north there is the main Alpine ridge, to the south you can see the world natural heritage site of the Dolomites. In the middle of these majestic mountains you can find the pulsating life in the historic streets of the Puster Valley's main town. Bruneck was first documented in the 13th century. By the late Middle Ages trade, industry and handicrafts had helped the town to prestige and prosperity. Overlooking the town and visible from afar is Bruneck Castle, which houses the Messner Mountain Museum RIPA. And you really ought to plan a shopping trip down Bruneck's picturesque Stadtgasse!

With 119 km of perfectly groomed slopes and state-of-the-art lifts, the Kronplatz – Bruneck's local mountain and South Tyrol's number one skiing resort – is an inviting place for visitors to enjoy excellent winter sport. In addition to skiing and snowboarding, cross-country skiing, back-country skiing, ice skating and tobogganing are also possibile!

In summer an unbelievable natural landscape tempts holidaymakers to enjoy the great outdoors; in particular the nearby mountains are superb for hiking and scrambling. Enjoy the beauty of the Alpine landscape and delight in the views of the craggy Dolomite rock faces. The Kronplatz Outdoorcenter offers the opportunity to experience the unique South Tyrolean mountain scenery together with qualified hike and mountainbike guides.
opening hours:
Monday - Friday: 09.00 - 12.30 and 15.00 - 18.00
Saturday: 09.30 - 12.30 (In high season also 15.00 - 18.00)
July and August
Monday - Friday: 09.00 - 19.00
Saturday: 09.30 - 12.30 and 15.00 - 18.00
Reviews
This business activity has no reviews yet.
Write the first positive review, share your experience!

Write your review
Map
Tourist board Bruneck Kronplatz Tourism
Piazza Municipio, 7
Brunico / Bruneck
Plan de Corones / Kronplatz, Dolomites, South Tyrol
GPS coordinates
lat: 46.795770° N
lon: 11.935680° E
lat: 46° 47' 44.8'' N
lon: 11° 56' 8.4'' E