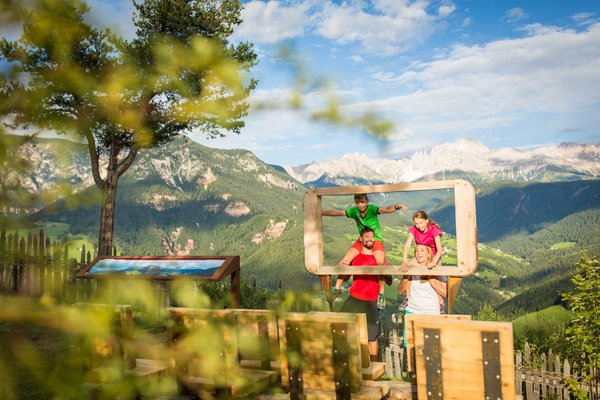 Steinegg / Collepietra in South Tyrol's Eggental / Val d'Ega - The star village in the Dolomites.
The village of Steinegg / Collepietra, although situated at only 820 metres a.s.l., will make you feel a step away from the stars! Together with the villages in the municipality of Karneid / Cornedo, it forms Europe's first star village. The star village comprises the villages Blumau (315 m), Steinegg (823 m), Karneid (500 m) and Gummer (1,117 m). From the altitude you can already see that this is a very varied area with many leisure activities. The old traditions are still very much alive in the individual villages and are expressed in many festivals and events.
The mild climate, the wonderful views, countless hiking and cycling paths, cultural heritage sites such as Karneid Castle or the Steinegg Museum and above all the friendly people invite you to stay.
The museum of local history is one of the most beautiful of its kind in South Tyrol and offers an unforgettable excursion into Tyrolean history, rural life and the various, almost forgotten trades.
The castle Karneid is the landmark of the municipality of Karneid and is situated on a steep rocky hill, seemingly unclimbable from two sides, and is one of the most beautiful complexes in the country.
South Tyrol's first and only public observatory and the solar observatory is located in Obergummer and offers all astronomy enthusiasts insights into the universe. Above the village there are still numerous earth pyramids, which are unique remnants from the Ice Age.
The South Tyrol Planetarium is located directly on the village square in Gummer. Independent of the time of day and weather, the cosmos simulator faithfully recreates the starry sky and the course of the stars.
opening hours for public:
from Monday to Friday from 08.00 to 12.00 (in summer)
from Monday to Friday from 08.00 to 12.00 and from 15.00 to 17.00 (in winter)
Saturday from 08.00 to 12.00

the office can be contacted via telephone:
from Monday to Friday from 08.00 to 18.30
Saturday from 08.00 to 12.00
Reviews
This business activity has no reviews yet.
Write the first positive review, share your experience!

Write your review
Map
Tourist board Collepietra
Kirchweg, 5
Collepietra / Steinegg
Val d'Ega - Carezza and Obereggen, South Tyrol
GPS coordinates
lat: 46.485215° N
lon: 11.455185° E
lat: 46° 29' 6.8'' N
lon: 11° 27' 18.7'' E