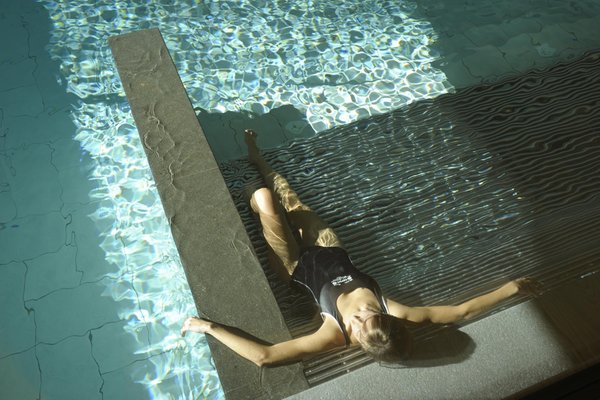 Terme Dolomia is the ideal place to heal and relax your mind and body.
The spring comes out of the sedimentary rocks of the Monzoni mountain group and thanks to its sulphur, sulfate, calcium, magnesium and fluorine elements provides for an ideal anti-inflammatory treatment.
The Alloch thermal waters can be really helpful in treating the following pathologies:
- irritable bowel syndromes (constipation, colitis etc.)
- Otorhinolaryngologic diseases involving:
* the throat (chronic pharyngitis and laryngitis, adenoiditis etc.--)
* the ear (glue ear, chronic otitis etc. )
* the nose (allergic rhinitis, vasomotor rhinitis, chronic sinusitis, upper respiratory tract infection etc.)
- Bronchopneumonic patterns (chronic bronchitis, bronchial asthma etc.)
* Osteoarthritis and other degenerative pathologies
* Non-articular rheumatism (arheumatoid arthritis, low back pain etc.)
- Dermatologic diseases (psoriasis, dermatitis, acne, ecc.)
- Circulatory diseases (flebitis after effects, vein insufficiency, vein ulcers etc.)
The Wellness Centre also offers anti-cellulite treatments using green coffee and algae, detox compress therapy with hay and medical herbs, milk and essential oils hydrotreatments, physioteraphy and anti-stress treatments, healing and relaxation massages, shiatsu and ayurvedic massages, body peeling with clay, firming and anti-aging treatments, as well as classical beauty treatments using wine, coconut, chocolate, chi gong lessons and meditation classes.
Opening hours of the thermal and beauty centre:
Monday to Saturday: 9 am – 12 am; 3 pm – 7 pm
Closed in November.
In January, February, March, July and August also on Sunday: 9 am to 12 am; 3pm to 7 pm.
Medical checkups to be admitted to the treatments: upon booking, Monday to Saturday from 9 am to 12 am and from 3 pm to 7 pm.
Reviews
This business activity has no reviews yet.
Write the first positive review, share your experience!

Write your review
Map
Thermal spa Dolomia
Loc. Antichi Bagni
Pozza di Fassa
Val di Fassa / Fassatal, Dolomites, Trentino
GPS coordinates
lat: 46.423972° N
lon: 11.686759° E
lat: 46° 25' 26.3'' N
lon: 11° 41' 12.3'' E