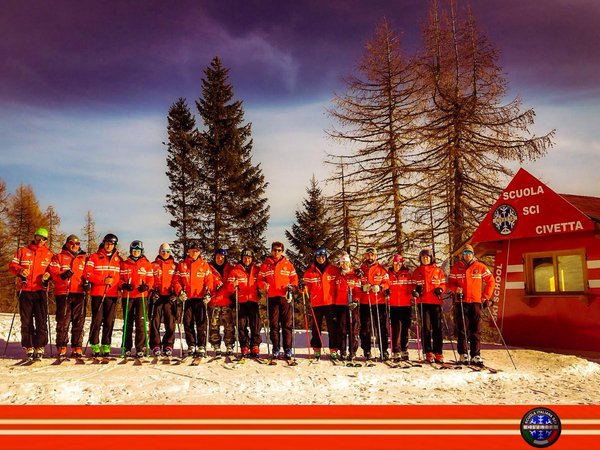 The mission of the school is to let you discover and enjoy the mountains while having fun in complete safety.
In the Scuola Sci Civetta you will find a friendly atmosphere, respect to the customer, clear information and dedication.
Here are our main services: Individual courses with specialised ski teachers: alpine ski, snowboard, freestyle, off-piste, telemark, and tours for skiers with handicap. Ski Courses held by Scuola Sci Civetta are the ideal to learn and improve your skills in a fun and dynamic atmosphere. The courses adapt to the demands of both beginners and experts and are a great way to achieve big improvements. Please note that we offer special English, German, Spanish, Slovenian speaking group ski lessons. Little Bears courses: for children from 3 to 4 years that can move their first step in the snow while having fun and in complete safety thanks to the specialised teachers. At the end of the course, all the small participants will get a gadget. Introduction to competitiveness held by italian ski federation trainers with the most advanced methodologies as video piloting via headphones and snow blade. Ski Total: the ultimate resource for a total immersion in ski and wild nature. A unique opportunity to experience the mountains and skiing with a ski instructor every day from 10:00 till shutdown. The ski instructor will be able to plan a focused and attentive work through all the learning and technical improvements stages, leaving enough space to use fantasy and to experience the total ski: off-piste, freestyle, race training and, why not, discovering the best hidden secrets and natural beauty of this magical land.
Map
Italian ski school Civetta
Via Pecol, 10
Val di Zoldo - Pecol
Monte Civetta - Zoldo valley, Val Fiorentina, Agordino
GPS coordinates
lat: 46.391489° N
lon: 12.106437° E
lat: 46° 23' 29.4'' N
lon: 12° 6' 23.2'' E