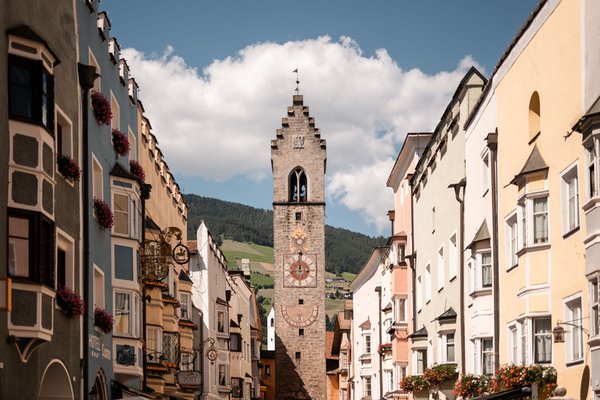 Your holidays in Südtirol - in Vipiteno, the northernmost city of Italy
The town of Sterzing in Südtirol was founded in the Middle Ages by the Fugger family and has preserved its irresistible romantic and artistic charm. Set at 948 m above sea level, Sterzing is the main town of the southern Wipptal valley and has a population of 6,000.
This small alpine town, which once was used as a refuge for kings and emperors, is today a jewel rich in ancient art, boasting in numerous wonderful bay windows and elegant boutiques. The tourist area Vipiteno/Sterzing is composed by the municipalities of Vipiteno/Sterzing, Val di Vizze/Pfitschtal valley and Campo di Trens/Freienfeld. You will be able to enjoy really unforgettable days in the midst of the spectacular mountain scenery of the Dolomites in summer as well as in winter: Unspoiled countryside, adventure and relaxation in an area of outstanding beauty.
Meadows, forests and mountains - the secret of memories that will last for a lifetime
The wealth of cultural and historical gems bears witness to a past rich in tradition. The town of Sterzing, a flourishing trading centre bustling with life and activity, constantly renews and revives the glory and splendour of the Fugger era. The charm of this area will certainly impress you, no matter whether you visit it: as a transient tourist or for a vacation for a longer period of time.
Short history of Vipiteno/Sterzing
Vipiteno/Sterzing existed already in the roman age as road fortress of the Roman Empire under the name Vipitenum. The town was officially mentioned in 1180 the first time. The earl of Tirol Meinhard II assigned to Vipiteno/Sterzing the right to be called "city", including all the privileges, in 1280. In 1443 a big fire destroyed several houses of one part of the city. The district of the town newly constructed after the fire was called "New Town" since then. This part is spread out from the 46m high main tower to the sub gate. The pedestrian zone of the New Town is known to be one of the most beautiful of Tyrol. It is flanked by big and small arcades and glamorous houses of the burgeois. The New Town with its majestic houses of the 15th and 16th century, which represent the flowering time of the mining, offers a magical townscape and was compared with the most beautiful town centres of Italy.
opening hours:
from Monday to Saturday from 8.30 to 12.00 and from 14.30 to 18.00
Sunday closed
Reviews
This business activity has no reviews yet.
Write the first positive review, share your experience!

Write your review
Map
Tourist Info Vipiteno
Piazza Città / Stadtplatz, 3
Vipiteno / Sterzing (Vipiteno / Sterzing and surroundings)
Valle Isarco / Eisacktal, Alto Adige
GPS coordinates
lat: 46.899013° N
lon: 11.431423° E
lat: 46° 53' 56.4'' N
lon: 11° 25' 53.1'' E