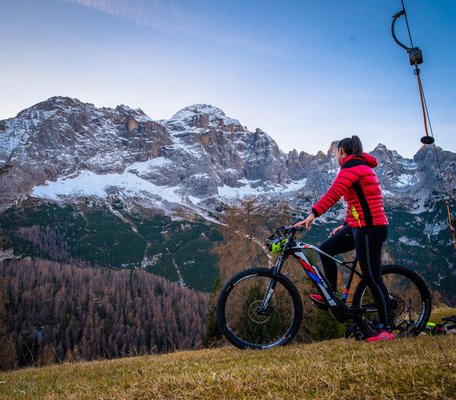 The E-Bike and summer sport equipment rental (nordic walking poles, climbing harness, climbing helmets and child carriers) is located at the winter ski rental in Piazzale Cabinovia in Pecol. It features 5 adult bikes, full and front and 2 child bikes, all electric. If you want to climb, you can rent harness and helmets; if you prefer to go for an excursion, the sticks will help you!
From the square you can start pleasant excursions under the Civetta Mount (Val di Pecol) on some iron paths or you can test yourself with more difficult descents using the cable car. There are many other routes that you can do and the team of the rental will be glad to suggest you. For example, you can do the route of the alms and back, or you can enjoy even in summer the Civetta area with Col dei Baldi, Fertazza, Piani di Pezzè, Alleghe and Selva di Cadore. You can also plan a route in Coi-Brusadaz, in Val Pramper or in Colcerver.
Reviews
This business activity has no reviews yet.
Write the first positive review, share your experience!

Write your review
Map
eBike Rental Civetta
Piazzale Cabinovia
Val di Zoldo - Pecol
Monte Civetta - Zoldo valley, Val Fiorentina, Agordino
GPS coordinates
lat: 46.391341° N
lon: 12.099262° E
lat: 46° 23' 28.8'' N
lon: 12° 5' 57.3'' E