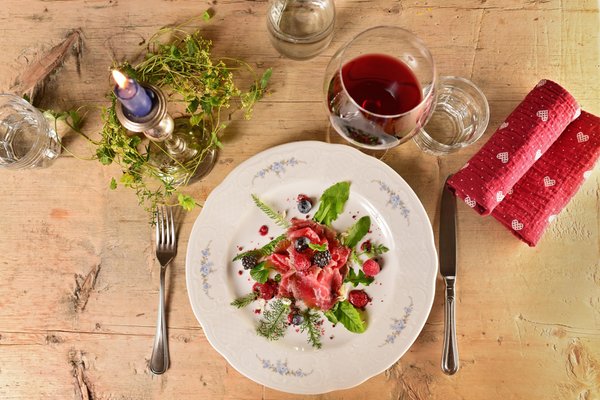 Bundé» - hello in Ladin!
The Ties family, Roman, Uli and children André and Jan wish you a very warm welcome!
Looking for peace, a break from everyday life, relaxation? You are in the right place! Our farm, which consists of a house and a barn, was described in historical documents long ago in 1296. In the year 2000 we breathed new life into it and it is now an idyllic green oasis, only 500 metres from the centre of the village of San Vigilio / St. Vigil, five minutes by foot from the ski slopes and just a few kilometres from the Fanes Sennes Prags nature park. Our beloved "old lady", a Gothic manor house, has stood for over 600 years and is officially recognized as part of the region's artistic and cultural heritage. We have restored it with great respect and kept even the tiniest details for posterity. Come and immerse yourself in this unpretentious, historic world of rural comfort. Our restaurant on the ground floor, where Roman is in charge front of house and Uli rules in the kitchen, offers delightful moments of cultivated, practiced tradition when it comes to the atmosphere, food and drink.
Map
Tavern Tlò Plazores - rustic cuisine
Str. Plazores, 14
San Vigilio / St. Vigil (San Vigilio di Marebbe / Sankt Vigil in Enneberg)
Plan de Corones / Kronplatz, Dolomites, South Tyrol
GPS coordinates
lat: 46.700963° N
lon: 11.933123° E
lat: 46° 42' 3.5'' N
lon: 11° 55' 59.2'' E