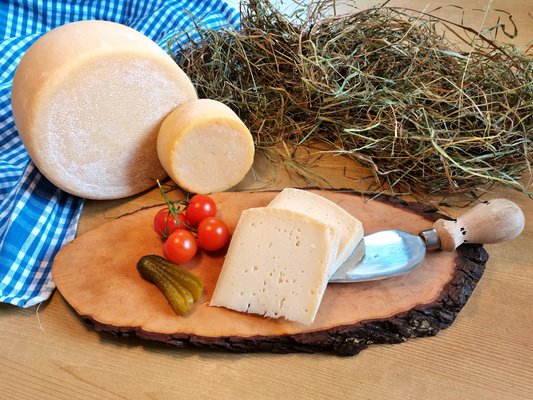 In the farm shop you will only find products from own production and also only from own raw materials.
The cheese specialities are made from raw goat's, sheep's and cow's milk and the quality is reflected in the taste. Here you can find moulds of either about half a kilo or 2-3 kilos, which makes for a more intense or milder taste.
The cheese specialities include the "purebreds", such as goat's milk cheese, sheep's milk cheese, cow's milk cheese "Marer and delicate blends like goat's and cow's milk cheese and sheep's milk cheese.
The well-being of the animals is important to the owners, which is why they only use hay or grass from the own fields for feeding. In addition, animals have plenty of outdoor exercise in the fresh air and enjoy their lives from the minute they are born.
In the farm shop, you will also find – depending on the season – various fruit jams from the own cultivation, eggs from happy hens, various sausages from the own animals, butter made from cow's milk, as well as raw milk (please bring your own bottle).
Have you discovered something that interests you? The owners are looking forward to your visit.
Reviews
This business activity has no reviews yet.
Write the first positive review, share your experience!

Write your review
Map
Marerhof Farm Sales Point
Kranzhofweg / Via Kranzhof, 6A
San Candido / Innichen
Three Peaks Dolomites - Alta Pusteria, South Tyrol
GPS coordinates
lat: 46.735249° N
lon: 12.289267° E
lat: 46° 44' 6.9'' N
lon: 12° 17' 21.4'' E