Predoi - Casere / Prettau - Kasern (Valle Aurina / Ahrntal)
Tauferer Ahrntal, South Tyrol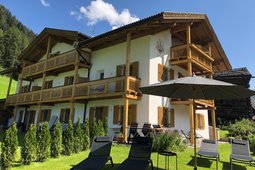 Nature rules here Birdsong, Cowbells, and the rustling of a creek: These chimes will not only wake you up in Kasern but will carry you through the day. A unique location to find yourself. At the end of a valley. As remote as a mountain cabin, as comfortable as a luxury hotel.